10/14/07: Answer to yesterday's question...
Yesterday I asked "what is this?" about the picture below. I was looking to see who could tell me as much about how I shot the picture as possible. Thank you everyone who responded! :)
Here's the answer...
I was at a wedding reception "playing." ("Play time" at a wedding reception occurs after all the formal stuff is complete -- formal dances, toasts, cake-cutting, etc.) The camera is a 5D hand held, bulb setting at f8.0 with about a 3 second exposure. The light is a Quantum T5D trigged by pocket wizard. I have the camera in my right hand, pocket wizard in the left...I popped the flash off a number of times while the shutter was opened...and I panned the camera while popping the flash. There was a dimly lit chandelier to my left and the band's amplifier lights (which gave the glow stick look someone mentioned) -- those are the squigly lights. The dance floor was pretty crowded for the shot...but everyone was moving around in addition to me moving the camera so it makes everyone look kinda ghost like.
Here is what it looked like when I moved the camera in a circle during the exposure. For this exposure, the dance floor was empty...not nearly as cool (IMHO)...but still worth the look.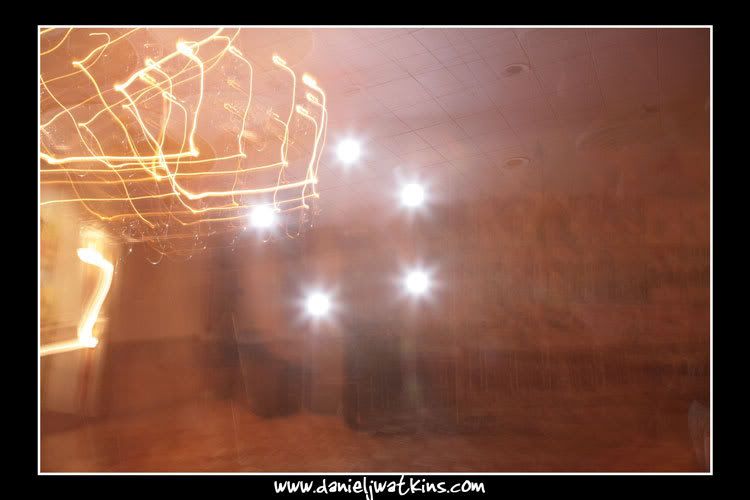 Stay tuned for more "play time" posts!
Labels: what is this?