10/10/06: Plan "B" Shots...
Last weekend I was photographing a wedding where the bride and groom had hired a horse and carriage to bring them to their reception which was held at a country club. But the horse and carriage service got the directions or the time (or both) mixed up...much to the chagrin of the bride and groom.
While the couple was trying to figure out an alternate plan for the "grand entrance," some wedding party members were able to get the golf course to loan them a bunch of golf carts. When the horse and carriage wasn't where they were supposed to be at the right time, there was discussion of having a golf cart parade entrance. The horse and carriage eventually showed up (delivering the bride and groom about 30 minutes late), but I didn't let the opportunity slip to capture this image of the bride and groom pondering their plan "B" grand entrance.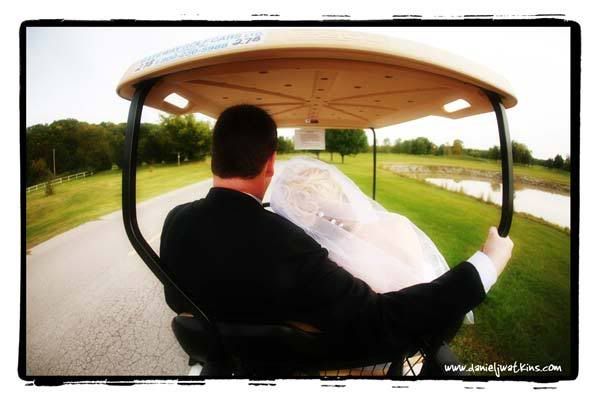 What this illustrates is that we photographers should always be prepared to "go with the flow" -- just because one photo opportunity appears lost doesn't mean another (or several more) won't pop up!