09/22/06: Go Where Other People Are Not
Photographers tend to follow a herd mentality at times. I remember being on vacation in Montana about four years ago and getting up early to take some sunrise photos. We were camping in Glacier National Park near a lake called Lake McDonald (no, no golden arches!). Lake McDonald is almost 10 miles long...but when I got to the parking lot at the foot of the lake I saw over a dozen photographers with tripods lined up to capture the sunrise -- they couldn't have been more than a few feet apart. I thought...how odd -- this lake is humongous and they are all pretty much going to get the same shot!
I had a similar experience earlier this year while attending a photography seminar in Newport Beach, CA. I joined a group of photographers for an early morning session with a couple who wanted some photos taken at Laguna Beach. Here is an image I shot which no one else captured that morning: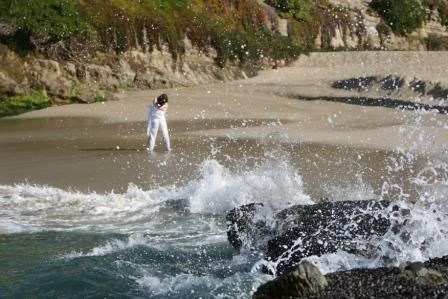 While all of the other photographers were shooting this couple from just to the right of the frame (basically a shot from the sand), I ventured out onto these humongous rocks because I wanted to get some shots of the water splashing with the couple in the background.
That brings us to today's quote...one of my personal favorites:
"Zig when others zag."
I don't know who first said this...but I first heard it while sitting in a Principles of Advertising class in college almost 20 years ago. I think it can be applied to photography, too!